UPCOMING MEETINGS/EVENTS
MEETING Tuesday, September 13, 7:00 - 9:00
366 Oakwood Ave., Grace Bible Church
There is parking on the street and Safeway has agreed to allow us to park in their lot along the Osborne St. side; just not near the entrance to the store. It is also close to the Osborne bus stop. It will be a Buy/Sell/Swap. Bring any birds, equipment, or supplies you wish to sell or swap.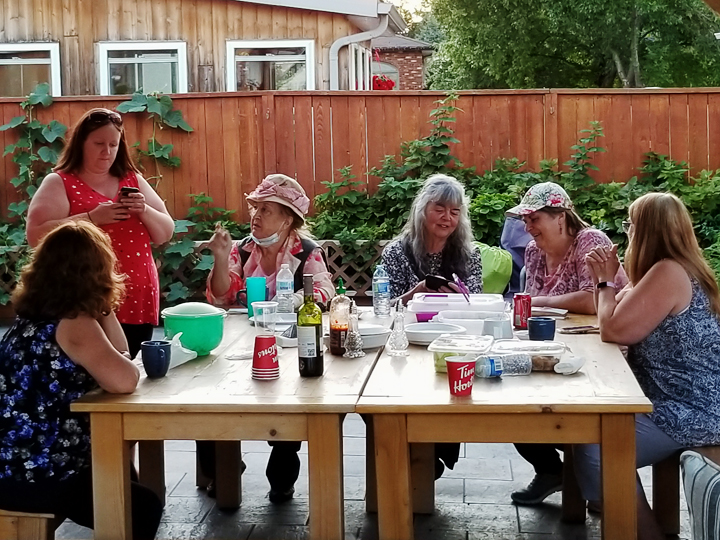 We are a social group who enjoy sharing our love of aviculture as well as each other's company. For general inquiries and membership information please contact us!
SUMMER BBQ

SUMMER BBQ It was decided to hold our traditional Summer BBQ at Assiniboine Park. I think I can speak for everyone in that it turned out to be a wonderful idea and we all had a great time. In fact it went over so well it has been suggested that in future we hold our annual BBQ at this same location and perhaps in both June and August.
Thank you so much to Jessie and Frank for making the reservation for the site and bringing the BBQ!
It was so nice to touch base with old friends and meet new faces.

Images from BBQ coming shortly.
The Manitoba Canary & Finch Club (MCFC) was founded in February 1991. Our first meeting took place later that month with a total of 9 perspective members. The idea for the club was discussed and a name was chosen. Since the initial meeting the club has grown to over 60 members.
The MCFC is very unique in that we do not have, nor do we promote, bird shows. We are a strictly non competitive organization. We hold a yearly display of our birds in order to promote interest in our club and aviculture in general.
Club members volunteer for positions. We have never had formal elections or rules of order. We are in it for the fun and camaraderie and to help one another.
We meet once a month including 2 supper meetings per year. Our regular meetings include guest speakers, videos and presentations by the members. We also participate in projects such as making nests out of coconuts and making mineral blocks and breeding boxes. The occasional field trip rounds out our fun filled itinerary.
​
During the summer months we forego our regular meetings with 2 BBQs hosted by members of the club.
RESPONSIBLE PET OWNERSHIP BY-LAW UPDATE
We have some good news to report. Winnipeg Animal Services will not be making bylaw recommendations pertaining to birds and other specialty pets at the City Council meeting in December. Instead, they will be asking for a significant extension of time to continue working with local stakeholder groups in the development of future recommendations. We support this move, as it means that this complex issue will not be rushed and there will be more time given to addressing the concerns of Winnipeg's avian community. Thank you for your involvement and support with opposing the proposed RPO bylaw.
WITH REGARDS TO COVID19 AND HOW IT WILL AFFECT US AND FUTURE SCHEDULING. WE WILL CONTINUE TO MONITOR THE SITUATION AS IT EVOLVES AND WE WILL NOTIFY MEMBERSHIP IF THERE IS ANY CHANGE IN PLANS, HERE, AND ON OUR FACEBOOK PAGE (LINK BELOW).

The Manitoba Canary and Finch Club (MCFC) was formed in February of 1991 in order to promote the interest in, and advancement of, aviculture, specifically that of canaries and finches.
The MCFC is an informal gathering of people who share a common interest in aviculture. Since our founding in 1991, we have worked to promote public awareness of our hobby as well as an appreciation for the miracle of avian flight and the gift of birdsong through the following:
​
• Bird displays for the public.
​
• Guest speaking to interested groups and school classrooms.
​
• Assisting schools, day cares and seniors complexes in the set-up and maintenance of canary and finch displays for their clientele.
​
• The arrangement of special functions for the public such as the inclusion of Manitoba artists in its public bird displays.
​
• To promote best practices for the health and well-being of birds kept in captivity by sharing information and ideas, operating a Bird Care Support Network, holding monthly meetings, inviting guest lecturers, as well as the dissemination of information in our Club newsletter.
​
• To keep members advised of all government regulations concerning the keeping of canaries and finches as well as acting in an advisory capacity to the various levels of government regarding the keeping of captive birds.
​
• To promote enjoyment, cooperation, and positive social relationships among fanciers in the City of Winnipeg and the Province of Manitoba.
To keep members advised of all government regulations concerning the keeping of canaries and finches as well as acting in an advisory capacity to the various levels of government regarding the keeping of captive birds.