WITH REGARDS TO COVID19 AND HOW IT WILL AFFECT US AND FUTURE SCHEDULING. WE WILL CONTINUE TO MONITOR THE SITUATION AS IT EVOLVES AND WE WILL NOTIFY MEMBERSHIP IF THERE IS ANY CHANGE IN PLANS, HERE, AND ON OUR FACEBOOK PAGE (LINK BELOW).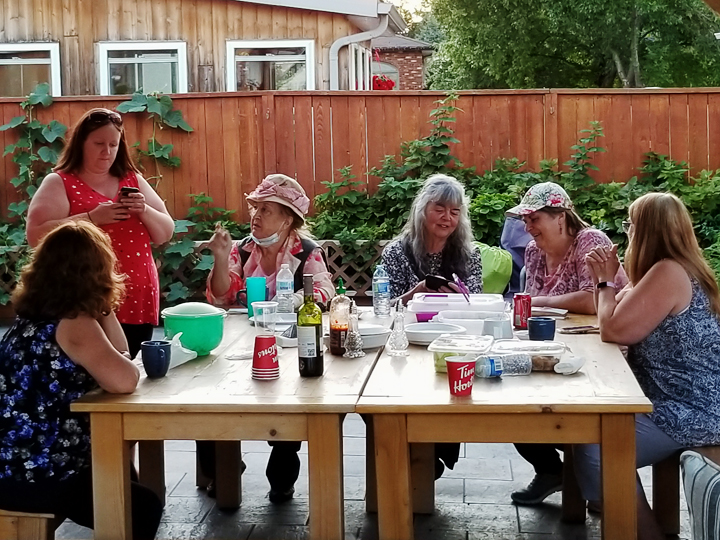 The August BBQ was a great success despite the lower than usual turnout due to Covid fears. It was a wonderful evening and we all had a great time. Thank you so much to Hector and Ximena for opening their home and hearth to us.
The Manitoba Canary & Finch Club (MCFC) was founded in February 1991. Our first meeting took place later that month with a total of 9 perspective members. The idea for the club was discussed and a name was chosen. Since the initial meeting the club has grown to over 60 members.
The MCFC is very unique in that we do not have, nor do we promote, bird shows. We are a strictly non competitive organization. We hold a yearly display of our birds in order to promote interest in our club and aviculture in general.
Club members volunteer for positions. We have never had formal elections or rules of order. We are in it for the fun and camaraderie and to help one another.
We meet once a month including 2 supper meetings per year. Our regular meetings include guest speakers, videos and presentations by the members. We also participate in projects such as making nests out of coconuts and making mineral blocks and breeding boxes. The occasional field trip rounds out our fun filled itinerary.
​
During the summer months we forego our regular meetings with 2 BBQs hosted by members of the club.
The Manitoba Canary and Finch Club (MCFC) was formed in February of 1991 in order to promote the interest in, and advancement of, aviculture, specifically that of canaries and finches.
The MCFC is an informal gathering of people who share a common interest in aviculture. Since our founding in 1991, we have worked to promote public awareness of our hobby as well as an appreciation for the miracle of avian flight and the gift of birdsong through the following:
​
• Bird displays for the public.
​
• Guest speaking to interested groups and school classrooms.
​
• Assisting schools, day cares and seniors complexes in the set-up and maintenance of canary and finch displays for their clientele.
​
• The arrangement of special functions for the public such as the inclusion of Manitoba artists in its public bird displays.
​
• To promote best practices for the health and well-being of birds kept in captivity by sharing information and ideas, operating a Bird Care Support Network, holding monthly meetings, inviting guest lecturers, as well as the dissemination of information in our Club newsletter.
​
• To keep members advised of all government regulations concerning the keeping and import/export of canaries and finches as well as acting in an advisory capacity to the various levels of government regarding the keeping of captive birds.
​
• To promote enjoyment, cooperation, and positive social relationships among fanciers in the City of Winnipeg and the Province of Manitoba.